Knitting needles come in many shapes, sizes and materials, so you are able to choose the exact knitting needles you need for a specific project. In the following, we'll give you a walktrough of the materials, sizes to choose and when to choose which types of knitting needles.
Materials
The next sections in this post are often defined based on the yarn choice, pattern, project type etc. But material is often based on personal preference – you won't get a different sweater whether it's knit on bamboo or metal knitting needles. To find the right knitting needles for you, we can only recommend trying out different materials. There are, though, some overall guidelines in regards to material.
Wood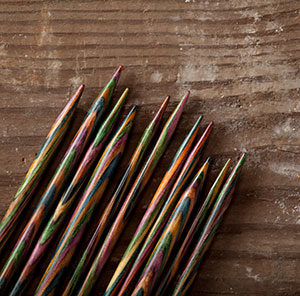 Wooden knitting needles are a stable with many. The majority is made of bamboo, while others are made from harder woods. In wood, you'll experience that the surface is smooth, which is warm unlike metal or plastic. Wood is really good for beginners, as the surface isn't too smooth, so the yarn won't slide off the needle.
Where the hards woods are in the pricy end, you can save a decent buck shopping bamboo.
Metal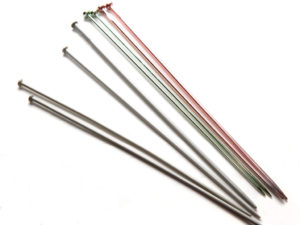 you'll often see metal knitting needles made of aluminum. They come in soft aluminum as well as a thicker (higher quality) aluminum. The good quality metal knitting needles will follow you for a long time – however, watch out you don't sit on them in the couch, aluminum is a soft material and will bend.
You knit fast on metal needles, since they have a really smooth and even surface. For beginners is can be a bit difficult 'taming' the tricot on the metal knitting needles, and the stitches can easily come off the end. If you knit with something like mohair, or other yarns that can easily get stuck, we would always recommend knitting with metal needles.
Plastic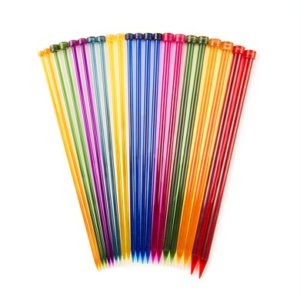 Plastic knitting needles are the cheapest, and can potentially be an affordable investment if you just wanna try out to see if you like knitting. We will recommend, though, that you switch to one of the other materisl when you become more comfortable knitting, since the other materials will give you a much better experience. At Knit Wit Company, we prefer the weight high quality metal needles provide – plastic does not have the same weight.
If you're knitting giant sizes, like 40-50mm needles, then plastic is much cheaper than other materials.
Types of knitting needles
Knitting / jumper needles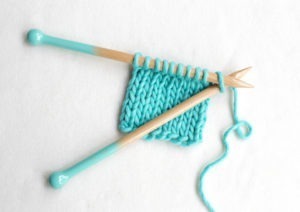 The two straight knitting needles, sometimes referred to as jumper needles, are probably the kind that most people think of when thinking about knitting. They always come in pairs, and are most often found in lengths 25, 30, 35 and 40 cm. Of course, they can be found in other lengths. When choosing knitting needles, you need to consider the number of stitches going on the needle. Blankets, shawls and similar should often be knit on circular needles to fit all the stitches.
Jumper needles come in all sizes, ranging from tiny 2mm to giant sizes like 50mm.
Double pointed needles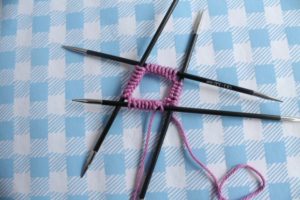 Double pointed needles are recognisable by their, surprise, double pointed ends. So there's nothing to keep the stitches in place in either end.
Double pointed needles are often shorter than jumper needles and are sold i sets of 4 or 5 needles. The needles are meant to knit in tubes / in the round, so fx sleeves or socks, so there won't be a seam. It's also a good idea to knit small hats (for babies) on double pointed needles, as they shouldn't lie on a seam in the back.
TIP: Do you want to knit using small needles, but only need a pair? Stop the stitches from falling off by wrapping elastic band at the ends.
Circular needles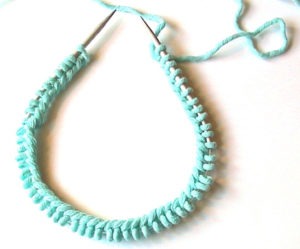 Probably the most versatile needle of them all is the circular needle. It's made of one long needle with a 'knitting needle' in either end a a plastic tube combining them.
You can use circular needles for most projects in most sizes, since they come in many lengths and sizes. The circular needle is most often used for projects that should have no seam (i.e. you're knitting in the round), but they're just as good for knitting larger pieces back and forth, such as a blanket or shawl.
Another advantage of circular needles is that the weight is distributed on one needle, where jumper needles will have the majority of the weight distributed on one needle most of the time. When knitting larger pieces, it can become very heavy to sit with on jumper needles.
Which size knitting needle should I use?
Most often, you'll get the size from the knitting pattern you're knitting, or it will be on the yarn label (see how to read a yarn label here). These specifications are certainly always suggestions, and you can easily deviate, if the sizes don't fit your intentions for the project. Maybe you want the sweater with larger more loose stitches, and you can then choose larger needles than specified for the yarn.
If you'd like to knit according to the specifications, you need to check the Hvis du gerne vil strikke efter anvisninger, så skal du gauge on the yarn label, knit a sample and compare your number of rows and stitches with the label's number. If they don't match, you will need to adjust your gauge or the size of the needles.
European versus amerikanske størrelser
In Europe, we use millimeter to define the sizes of the knitting needles, but often, there's a US indication as well. We've created an overview of mm vs. US sizes.
[table type="standard_minimal"]
[trow]
[tcol]EUROPEAN SIZES (MM)[/tcol]
[tcol]US SIZES (US)[/tcol]
[/trow]
[trow]
[tcol]2,0[/tcol]
[tcol]0[/tcol]
[/trow]
[trow]
[tcol]2,25[/tcol]
[tcol]1[/tcol]
[/trow]
[trow]
[tcol]2,75[/tcol]
[tcol]2[/tcol]
[/trow]
[trow]
[tcol]3,0[/tcol]
[tcol]N/A[/tcol]
[/trow]
[trow]
[tcol]3,25[/tcol]
[tcol]3[/tcol]
[/trow]
[trow]
[tcol]3,50[/tcol]
[tcol]4[/tcol]
[/trow]
[trow]
[tcol]3,75[/tcol]
[tcol]5[/tcol]
[/trow]
[trow]
[tcol]4,0[/tcol]
[tcol]6[/tcol]
[/trow]
[trow]
[tcol]4,5[/tcol]
[tcol]7[/tcol]
[/trow]
[trow]
[tcol]5,0[/tcol]
[tcol]8[/tcol]
[/trow]
[trow]
[tcol]5,5[/tcol]
[tcol]9[/tcol]
[/trow]
[trow]
[tcol]6,0[/tcol]
[tcol]10[/tcol]
[/trow]
[trow]
[tcol]6,5[/tcol]
[tcol]10,5[/tcol]
[/trow]
[trow]
[tcol]7,0[/tcol]
[tcol]N/A[/tcol]
[/trow]
[trow]
[tcol]7,5[/tcol]
[tcol]N/A[/tcol]
[/trow]
[trow]
[tcol]8,0[/tcol]
[tcol]11[/tcol]
[/trow]
[trow]
[tcol]9,0[/tcol]
[tcol]13[/tcol]
[/trow]
[trow]
[tcol]10,0[/tcol]
[tcol]15[/tcol]
[/trow]
[trow]
[tcol]12,0[/tcol]
[tcol]17[/tcol]
[/trow]
[trow]
[tcol]15,0[/tcol]
[tcol]19[/tcol]
[/trow]
[trow]
[tcol]19,0[/tcol]
[tcol]35[/tcol]
[/trow]
[trow]
[tcol]20,0[/tcol]
[tcol]50[/tcol]
[/trow]
[trow]
[tcol]25,0[/tcol]
[tcol]N/A[/tcol]
[/trow]
[/table]
Popular brands: